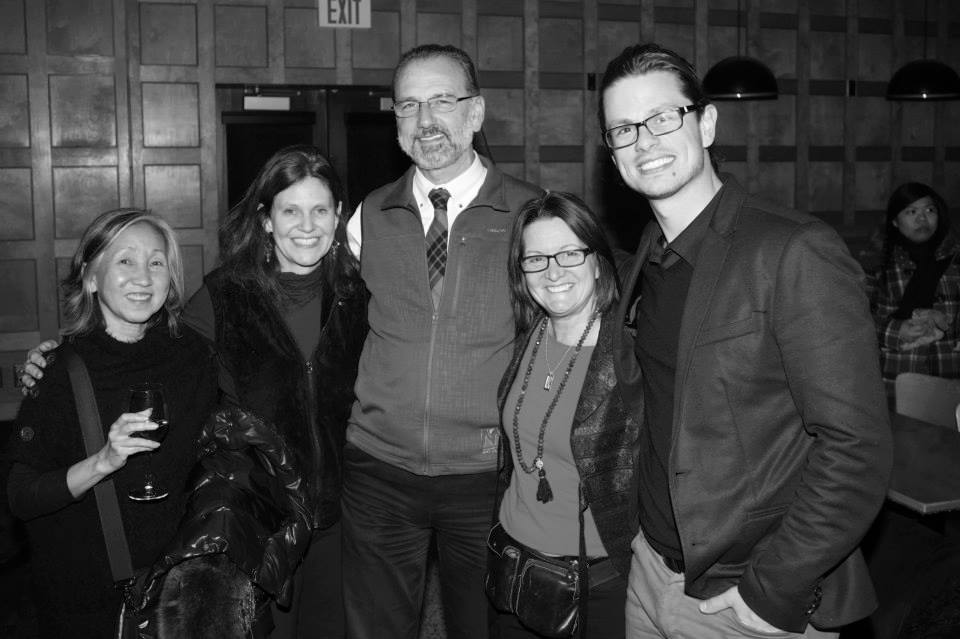 Think back, waaaay back.  Remember that moment when you were minding your own business, just shimmying down that birth canal, all on your lonesome, when suddenly, "BAM!" – other people!
Welcome to your first experience of community.
Love 'em or hate 'em, for the time being, other people are here to stay.  Even isolationists merrily chowing down on slugs and coyote livers cannot escape the reality that there are others making decisions that affect the mountain air, cave stability and the proximity to One Direction (because they seem to be everywhere!).
The community of humanity affects and influences us should we choose to join in, or not. So whether we huddle together to keep the wolves at bay or simply because we've discovered that slow dancing by ourselves isn't a lot of  fun, we tend to form ourselves into communities.
Studies show that community happiness can be measured by the number of public celebrations they share.
In the two short years the Centre for Mindfulness has been around, the growth of interest in mindfulness has exploded.  This has meant more people going through clinical programs, more health care workers coming to train at the Centre, more community groups linking up with the CMS, and most recently, the Centre reaching the highmark of receiving Charitable Status.  It was time to celebrate!
Another marker stone was reached recently when the Factor-Inwentash Faculty of Social Work at University of Toronto, invited the CMS to create an MBCT training/certificate  program for health care professionals.  Classes quickly filled with front-line workers seeking to bring mindfulness applications into family practices, hospitals, schools, social service agencies, nursing homes … everywhere.
As those who've done it know, the MBCT certificate program, which includes the 5-day MBCT residential Intensive with Zindel Segal and Pat Rockman in September, and the 10 week Practicum on MBCT facilitation, is rigorous, with virtually no unscheduled moments.    Most of the time, you are either training or in silence.  The community of mindfulness was all around, but there was no time to explore it together.   Yet another reason to party!
This December at the Gladstone Hotel, the Centre for Mindfulness Studies sent out a call to the speedily growing community of mindfulness professionals, inviting them  to come together to smile, enjoy one another, and strengthen connections at, "Mindful Martinis."
Because mindfulness is so helpful, and such a beneficial way to approach our lives, it might be easy to become precious about what mindfulness means.  Living a healthy, balanced life can contribute to many good outcomes, but for some people, so can a few martinis.  Life contains the opportunity to mindfully enjoy both a cup of tea and a cocktail.
The intention of Mindful Martinis was not to encourage drinking, but to include all aspects of experience under the banner of mindfulness … because the only other option is being unmindful.
Although we were unsure if anyone would attend during a busy Christmas season, almost 60 graduates from the professional programs showed up to drink (or not drink)  martinis, practice together at the ringing of a bell, and take in the importance and pleasure of friends new and old, known, or as yet unknown, coming together to breathe and be present.  Increasingly, the mindfulness community continues to grow and strengthen, on and off the cushion.
For your amusement, our cocktail list for Mindful Martinis.  Remember to practice.
WELCOME TO THE CENTRE FOR MINDFULNESS STUDIES
MINDFUL MARTINIS – COCKTAIL LIST
THE ZINDEL
Depression will be a thing of the past when this dry but zesty, jumpin juniper surprise meets the spirit of the Benedictine.  Enjoy the awakening of your alert, but relaxed taste buds as you experience the joy of being present to this experience. 
Gin, sweet vermouth, Benedictine with a zest of lemon
THE BODY SCAN
This attention getting cocktail can help reveal what lies beneath.  Enjoy it mindfully, and remember when we invite you to "return to the body," we mean your own.
Vodka, Cointreau, cranberry juice, lime
THE INQUIRY
What did you notice about this delicious drink? Sweet and tangy, with a hint of almond.  Drink enough of these and we'll all be wondering … and then what happened?
White rum,  Disaronno Amaretto, pineapple juice, lime
DIIIIIiiinnnnnng
Stop, notice and try to remember where you were when this bell rang.  Let each sparkling sip nurture the joy of awakening, again and again!
Vodka, melon liquor, cranberry juice,  lime and a splash of bubbly
THE MBCTINI
Many studies confirm the effectiveness of MBCT …  wait til you try the MBCT-INI!  A few sips of this classic martini  and your world will come alive in a whole new way.  Remember to anchor your attention in the olives
Gin, olives
3 MINUTE BREATHING SPACE
Posture looking a little undignified?  This lovely non-alcoholic delight is the pause that refreshes.
Pineapple, Cranberry and orange juices with a fizzy finish –  to keep the mind clear