Free Mindfulness Drop-in Session
Join us for thirty minutes every Thursday!
With mindfulness, we train ourselves to pay close attention to what is going on in the present moment; just as it is. When we connect with the present moment, we become aware of habitual thought patterns and can start to create new, healthier ways of responding to life's challenges.
Who Should Attend
Mindfulness program participants, past participants, faculty, staff and members of the community with an existing mindfulness practice. We do not recommend the drop-in for beginners. For those interested in discovering mindfulness, please join us for our beginners' workshop or info sessions!
Registration
No Registration Required, join us every week or whenever you can!
Facilitator for the Month of March: Jeremy Finkelstein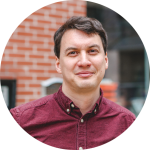 Jeremy Finkelstein is a Registered Psychotherapist and the founder of Mindful Living, a psychotherapeutic mindfulness-based meditation group for beginners and MBCT/MBSR graduates and a mindfulness-based facilitator for Mindfulness Everyday and The Centre for Mindfulness Studies. He has done facilitator training through the University of Massachusetts medical school and The Centre for Mindfulness Studies. At The Centre, Jeremy facilitates MBSR and MBCT and leads silent retreats and introductory workshops. With Mindfulness Everyday, Jeremy facilitates The Mindful Edge: Stress Reduction and Life Strategies for Teens.