Testimonial: Meg Soper and Mindfulness
When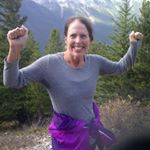 Meg Soper tweeted at us about her experience attending a workshop at The Centre for Mindfulness Studies, we wanted to know more. Meg uses humour to deliver her hands-on experience in healthcare in a way that's motivating and memorable and for her audiences. The stand-up comedian and keynote speaker tells us more about what she learned, and how she's using those lessons in her day-to-day life and work.
What brought you to take a mindfulness workshop in the first place?
I've always been interested in mindfulness, and was inspired to take the full-day course for beginners when I saw Elaine Smookler was teaching a workshop. I'd met Elaine on another occasion and loved her energy.
Before taking the course, what were your initial impressions of mindfulness?
I work as a professional speaker and I had shared some of those techniques with my audiences to help them cope with stress, and to help them find more balance in their lives. I had only a minimal amount of knowledge around mindful breathing. I found it beneficial personally and professionally.
What, if anything, stood out for you in the workshop? Any surprises?
Elaine made the content fun. Her passion for Mindfulness was infectious. She brought so much humour and positive energy to the subject of mindfulness, that I found the time flew by. I appreciated how diverse the group was and that the common bond was to increase our awareness of how we can live in the present. So what stood out for me was whether you were dealing with anxiety, depression or just looking for tips to help others, the content of the course helped those who opened their hearts and mind to embrace it. I felt uplifted at the end of the day.
Did the things you learned and experienced in the workshop have a lasting influence on you?
Yes, for sure.
I'm practicing mindful eating as a result of the Raisin Awareness component. I used to pile-drive my meals because I love eating so much, but I'm typically rushing to my next activity. Now I remind myself to be mindful of each bite and the sensations they bring. This slows my eating down and makes me appreciate my food so much more.