The MBCT practicum, accredited by The College of Family Physicians of Canada, is the fourth module of our MBCT Facilitation Certificate Program.
The MBCT Practicum will immerse those interested in teaching the 8-week MBCT program as participants, facilitators and observers. Trainees will take on a variety of roles including teaching, providing and receiving feedback and developing skills of inquiry. Readings and home practice will be an essential part of the program. Relevant background will be provided in the areas of mindfulness, clinical research and CBT.
Participants Will Learn

To learn to deliver the 8-week MBCT program, maintaining fidelity to the protocol;
To practice guidance and inquiry in teach-backs, practice sessions, and recordings;
To receive feedback and coaching in guidance, inquiry, session organization, and managing the group;
To work with various approaches to achieve a deeper understanding of the assumptions, principles, and intentions of the MBCT program; and
To learn to embody mindfulness during group interactions (discussions and inquiry) and while guiding formal practices and cognitive exercises.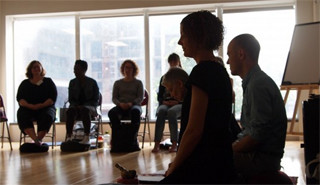 Who Should Attend
This course is intended for healthcare providers and social service workers interested in developing some foundational skills to facilitate the 8-week MBCT program. It is best suited for clinicians who have experience with meditative practices and who have attended an 8-week MBCT group as a participant.
Apply Before Registering
If you have not already been accepted into one of the Centre's Facilitation Certificate Programs, please apply here. Please note that, while you do not have to intend to complete the certificate training program to enroll in the MBCT Practicum, you do have to apply.
How many Continuing Education Credits (CECs)?
Timing: 35 in-class hours
Fee: Varies based on location and course length
As a charity, we do not charge taxes
Payment, cancellation and refund policies
I took the MBCT practicum course just prior to co-facilitating my first MBCT program. The instruction was excellent, and the facilitator tools and scripts were invaluable. Just as important, the practicum allowed me to build relationships with a valued network of professional contacts, colleagues, and friends that continues to endure almost two years later.
Upcoming Courses
Start:
Wednesday, April 24, 2024