My Journey with Mindfulness, Dr. Patricia Rockman, and the Centre for Mindfulness Studies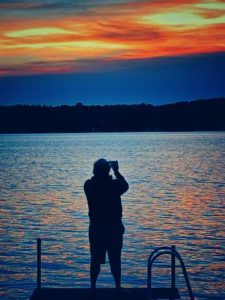 My name is Bob Koven AKA "Sunset Bob" and I have suffered from mental health challenges since I was young. I'd like to share my story about my struggles with mental health and how mindfulness, the Centre for Mindfulness Studies and my teacher Pat have helped my journey.
Mental health history
When I was teenager, I was described as hyperactive, loud, impatient and having "bad behaviour." Still, everyone just accredited it to being an adolescent. In my early 20s, I was diagnosed with encephalitis, and before the doctors performed a spinal tap, I had a visit from a psychiatrist who diagnosed me with Tourette's Syndrome.
I was briefly put on a trial medication but learned to take care of myself through physical exercise. I was a runner, a mountain and later road cyclist, accomplished freestyle skier, and early adopter of snowshoeing. Through exercise, I had the ability to blow off my physical energy. This combination lasted until my 50's while mindfulness was done infrequently as an event, not as a practice.
Meeting my future mindfulness teacher
I met my mindfulness teacher years before I fully embraced the practice. It all started in 1978 when a new family purchased a chalet and joined Beaver Valley Ski Club with their young family. It was there I met the co-founder of the Centre for Mindfulness Studies' Dr. Patricia Rockman, and the start of a beautiful friendship and an introduction to mindfulness.
We spent many hours walking and talking over the years. She fully embraced when we would venture off as it was a form of mindfulness and a time to connect with me and nature. I would learn from my friends committed to the practice.
Breakdown and Hope
In my 50s, after travelling for business worldwide, I decided to move and live back where I met Pat in Beaver Valley.  While being there, my positive energy depleted and I spiralled into depression and anxiety. I could not get out of bed. 
Luckily, my mindfulness teacher, Pat, was there  and encouraged me to move back to Toronto to get help. I took her advice, and in addition to receiving professional care for my Tourette's, I attended an eight-week mindfulness program at the newly established Centre for Mindfulness Studies.
Mindfulness became part of my "medicine." I found a job and began my long journey of healing.
Mindfulness and nature, my saviour
One day I was sitting by a river when I realized that my meditation was "river therapy." This was a turning point. I have spent time visiting numerous Southern Ontario rivers as my special place. As my meditation says, "Take your thoughts and cast them into the river and watch them pass by." Mindfulness finally became my friend.
Now mindfulness, as well as an appreciation of nature and its magnificent sunsets, have become part of my customized "tool-box" for maneuvering each day to make it as good as it can be. I enjoy giving back both in reaching out to people and raising funds for the Centre for Mindfulness Studies' valuable work. Part of the money I pull in from my sunsets, are donated towards the Mindfulness Studies Community Program.