Use Mindfulness for Anxiety & Transition this Year!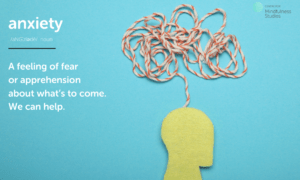 Here at the Centre for Mindfulness Studies, we understand the mental health issues brought on or aggravated by the Covid-19 crisis. To assist during this challenging time, we've created a new program specifically designed to help manage anxiety and emotion that can surface with such uncertainty. This new program will help participants develop and apply accessible mindfulness and cognitive behavioral skills.  
W
ho
 are the facilitators? 
This program is taught by two highly skilled and regulated healthcare providers. Blakie is an Occupational Therapist and Psychotherapist in Ontario who has worked in the mental health field for over 15 years. She has a specialty in anxiety disorders and led a CBT for Anxiety group for over 6 years. Our second program facilitator is Rhea, who is a Registered Social Worker and is a Registered Psychotherapist. Rhea discovered a passion for group work while completing her Master of Counselling degree and has extensive experience leading groups in hospital and community mental health settings. 
W
hat is 
unique about this program?
The MAT program pulls on skills and techniques from a variety of psychotherapy modalities, specifically Cognitive Behavioral Therapy and Acceptance & Commitment Therapy. We will be assisting participants in increasing their understanding of what anxiety is, the impact it has on daily life, and how to work with anxiety rather than against it.  
W
ho should take the program? 
As what we call a transdiagnostic anxiety group, this program is for those who may have a formal diagnosis of anxiety (Generalized Anxiety Disorder, Social Anxiety, Panic Disorder) and for those that self-identify with living with the challenges of increased anxiety, especially through this challenging time of the pandemic.  
W
hat
 kind of skills will this program 
teach
? 
Participants will learn specific techniques to use when anxiety is present, to improve their daily functioning using a variety of evidence-based techniques. We will be engaging in relaxation-based exercises, breathing practices, mindfulness-based exercises as well as grounding practices. Participants will leave with a personalized anxiety management plan.  
Mindfulness for Anxiety & Transition is a two-part program that begins on February 4, 2021. 
Blog post written by Blakie Sahay OT Reg. (Ont.)