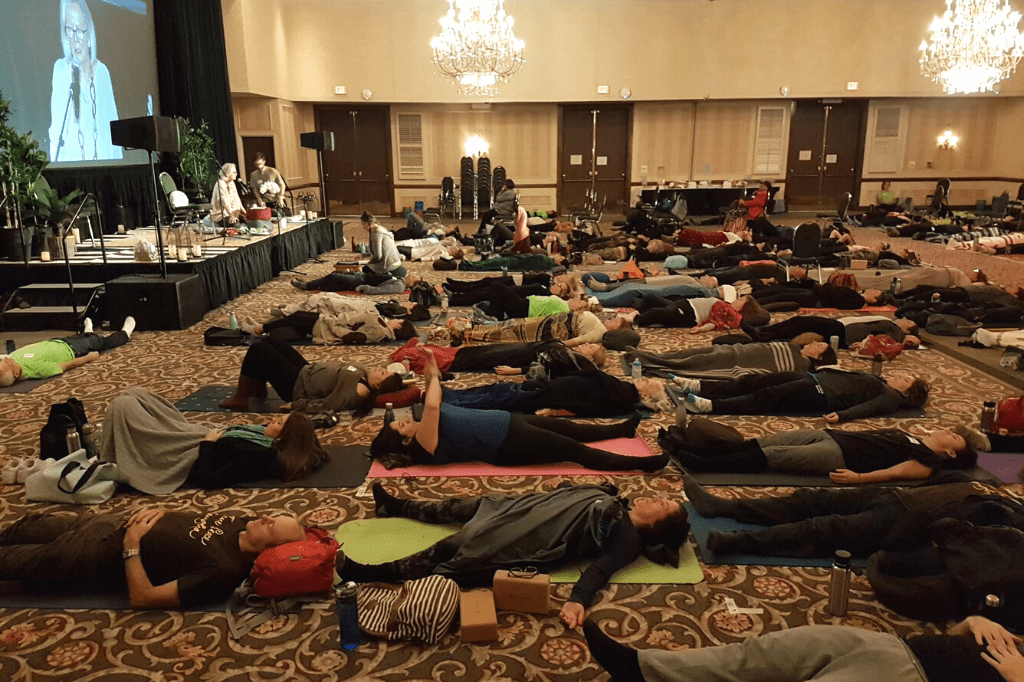 Every year for one day in the fall, we come together to meditate for mental health and to extend a hand to those in need. We unplug from the digital world and immerse ourselves in the experience of mindfulness: a powerful force for happiness, altruism, and a better world.
Our theme for 2019 was "Clear Mind – Open Heart," chosen by our amazing lead teacher Susan Woods. Susan is one of the most skilled and sought after MBCT and MBSR teacher trainers in North America, and has a unique ability to hold a loving and compassionate space. We embarked on a four-hour journey of mindfulness, heart opening, clarity and connection. We moved through a wide variety of practices including sitting meditation, movement, music, gentle yoga, and mindful eating.
Mindfulness Challenge 2019 was held on November 9, 2019.

---
Help Build Mindful, Resilient Communities
---
Mindfulness Challenge is an opportunity not just to build your own mindfulness, but to bring mindfulness and resilience to communities in need.
Mental health is something most of us take for granted. One in five Canadians are affected by mental illness, and too many wind up jobless, alone or even homeless. They need the basics like food and shelter and, to get back on their feet, they need treatment and tools to improve their mental health.
"If you go deeper and deeper into your own heart, you'll be living in a world with less fear, isolation and loneliness."

– Sharon Salzberg
At The Centre for Mindfulness Studies, we are committed to making mindfulness available to everyone. This is the heart of the work we do. With more than 40 social service agencies and seven healthcare partners, we bring mindfulness into disadvantaged communities across the city of Toronto and beyond.
Since 2016, we've raised over $500,000 to support mindfulness for those in need. Thanks to the money raised at Mindfulness Challenge:
We're expanding the GROW Mindfulness for Youth program, funded by the Ontario Trillium Foundation. Starting in 2019, GROW has been extended for 3 years. It is a "train-the-trainer program" to embed mindfulness in over 40 youth-serving agencies. This will be the most comprehensive training of its kind, and the data gained will be instrumental in convincing key decision makers to fund similar programs.
We expanded our Mindful Peer Leadership program, co-funded by the Ontario Trillium Foundation, to train clients of social service agencies to facilitate mindfulness sessions for their peers.
For two winters, hundreds of homeless people have had access to a weekly 1.5 hour mindfulness group at Beth Shalom's Out of the Cold program.
Bursaries for our 8-week mindfulness-based therapy programs (MBCT and MBSR) are available for low-income people.
Together with Operation Springboard, we developed a digital learning program on mindfulness for at-risk youth to promote emotional regulation, resilience and engagement with community life.
We provided mindfulness programs to address the difficulties that youth experience in their journeys out of homelessness, as part of CAMH's Toronto Housing Outreach Program Collaborative.
More info on our Community Program.
Photos from previous Mindfulness Challenge events: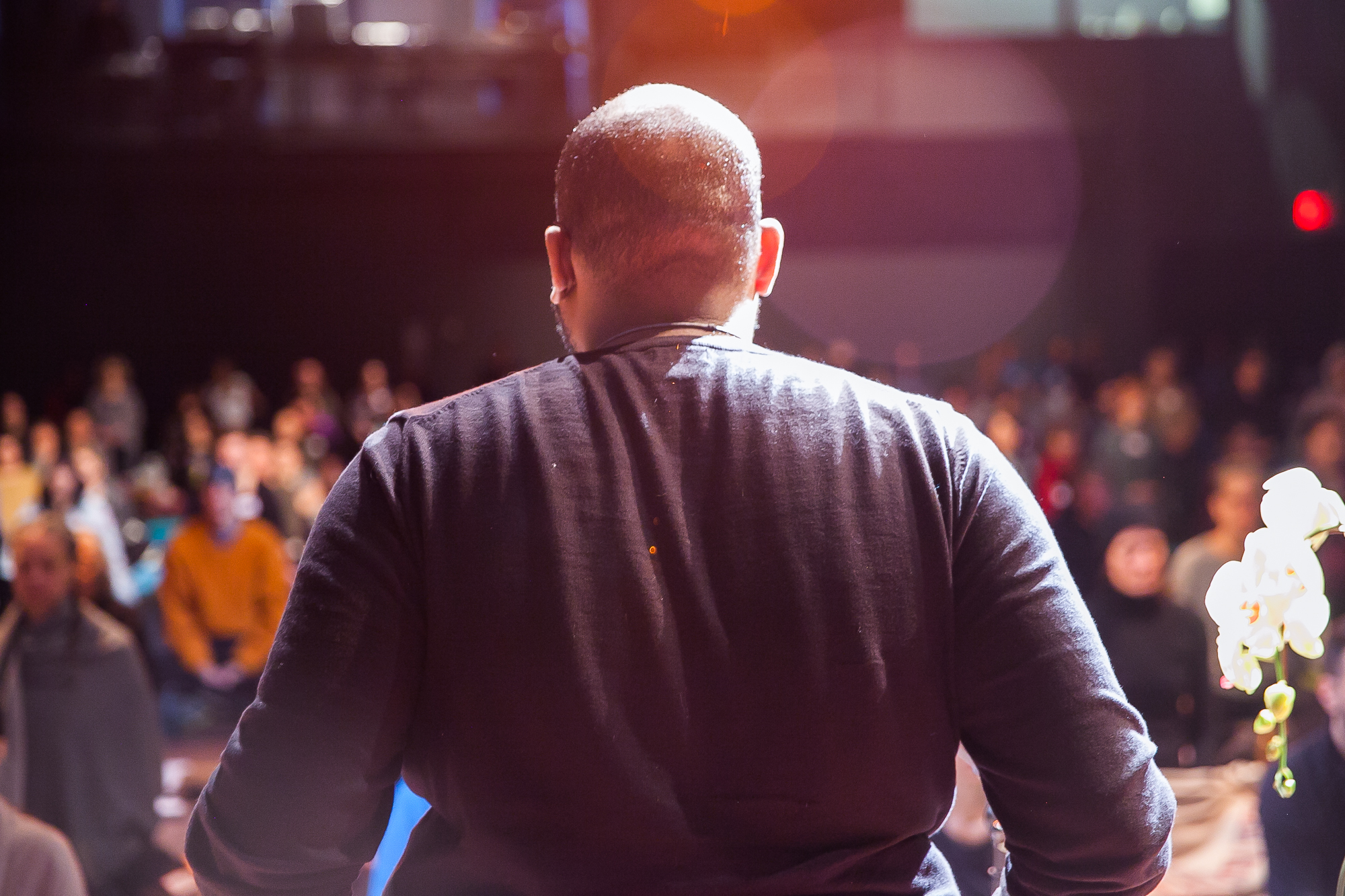 ---
This Year's Fundraising Champions
Thanks so much to everyone who supported Mindfulness Challenge 2019, including participants, volunteers, sponsors, community partners, in-kind donors, and everyone who lent a hand.
We want to thank all our participants, regardless of how much they raised. You are the heart and soul of the Mindfulness Challenge. We wish to give special recognition to those who raised $250 or more. You're amazing!
HEROES:  $2,500 or more
Alan Moon
Jo Bennett
Joanne  McLean
Laurie Arron
Meredith Fellowes
Patricia Rockman
Shawna Perlin
Trish Sullivan
Wendy Blain
LEADERS:  $1,000  or more
Alison Kelford
Andrea Arron
Anita Bohez
Ankita Goel
Ann Dugan
Barry Patterson
Carole Zagerman
Carolyn Doyle
Cassidy Thedorf
Darren Higgins
Donna Wong
Eithne McCredie
Elaine Orsini
Glenn Little
Heather Cameron
Heather Rae
Jacqueline Peeters
Jeremy Finkelstein
JulieMae Doherty
Kim Thompson
Kunal Gupta
Liz Frost
Melinda Montgomery
Nicholas Brinckman
Nicholas Parker
Pamela Hill
Phillipa Flynn
Rainer Beltzner
Shivani Chotalia
Tita Angangco
Victoria Petrolo
Imelda Caliwliw Johnson
BENEFACTORS:  $500 or more
Abigail Etches-Raheel
Alex Badila
Alex Lewis
Amanda Guthrie
Ana Serrano
Blakie Sahay
Bob Silverberg
Brian Cohen
Caitlin Burgess
Catherine Gillespie
Christina Vani
Cindy van Wenderen
Cynthia Bradshaw
Cynthia Lilley
Danielle Belle-hopkins
Elaine Smookler
Emily Thring
Fabio Fernandes
Felicia McVannell
Gillian Mulvale
Gina Oades
Heather Reid
Janice Prazoff
Jazmine Sangalang
Jeff Schmidt
Ka Young Park
Karen Soper
Kim McNichol
Larysa Osmak
Laura Bonfigli
Mandi Buckner
Maria Fera
Marisa Collins
Michele Glatt
Neil Shinder
Pam Nakano
Tove Rees
Wendy Stanyon
FRIENDS:  $250 or more
Alethia Caraccioli
Alexandra Fiocco
Allison McGee
Allison McLay
Amy Faba
Andrea Jaramillo
Anita Barnes
Anne Jeffery
Antonietta Chiella
Audrey Hadfield
Belle Rego
Beverley Conner
Bob Tian
Carla Giddings
Cleone Grasham
Donna Rowe
Eileen Beltzner
Emma Ates
Eva-Maria Hahler
Gwen Morgan
Heather Cardinale
Jennifer Jeffery
Joan Pavelich
Judie Teskey
Julia Wallace
Karen Sutherland
Kobi Rivlin
Krista McCann
Kristen Swanson
Laura Gillies
Liam Doherty
Lilia Sosedova
Lisa Duranleau
Lucie Masse
Lynn Davidson
Margaret & Emily Black
Michael O'Connor
Mike Dunn
Naomi Frank
Natasha Ali
Richard Spandlick
Sandra Bekhor
Shannon W
Shel Scott
Susan Anthony
Susan Mayrand
Trevor Zimmer
Trisha Lanns
Victoria Lord