MBCT Teacher Training Intensive
Train to facilitate MBCT programs with guidance from Zindel Segal, one of its co-developers. This is the third module of our MBCT Facilitation Certificate Program.

Current treatments for depression provide relief for many people, yet they face significant challenges maintaining the benefits of treatment. This innovative 5-day intensive training and retreat will lead you through the program designed to prevent depressive relapse among people with a history of depression.
Based on the research of Zindel Segal, Mark Williams and John Teasdale and documented in their book Mindfulness-Based Cognitive Therapy for Depression, this program combines the tools of cognitive therapy with the practice and clinical application of mindfulness meditation.
The heart of MBCT lies in acquainting patients with the modes of mind that often characterize depression while simultaneously inviting them to develop a new relationship to these modes. Using your personal mindfulness practice to inform your psychotherapy is a crucial part of this process.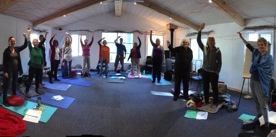 Who Should Attend
Enrolment is open to healthcare professionals and social service workers who have a clinical background and a mindfulness meditation practice. Prerequisites for the intensive training include participation in an 8-week MBCT program, formal mindfulness training equivalent to MBCT Basics and CBT Primer, and a regular mindfulness meditation practice.
Apply Before Registering If you have not already been accepted into one of The Centre's Facilitation Certificate Programs, please apply here

Timing: 45 in-class hours
Fee: Varies based on retreat location and your choice of single or double accommodation.
As a charity, we do not charge taxes.
Payment, cancellation and refund policies
What To Expect
This teacher training intensive will combine elements of a clinical training workshop and a meditation retreat. You can expect to spend some periods in silence and others in active discussion and interaction. The course will follow a concentrated schedule, starting at 6:30 am and ending at 8 pm each day. Registrants will not be provided with a detailed agenda beforehand; instead, the schedule and time breakdown will be addressed at the opening session of the retreat.
Continuing Education Credits (CECs)
This 3-credit-per-hour Group Learning program has been certified by the CFPC for up to 135 Mainpro+ credits. It is also approved for up to 51 CECs by the CPA, for up to 45 CECs by the CCPA and up to 45 CECs by the OACCPP
The 5-day MBCT Teacher Training Intensive has been life changing for me personally and professionally in an unexpected but positive way. The program is intensive and well paced, the Nature surroundings are breath-taking and provide the perfect environment for this kind of deep work. You will be embraced and taught by highly compassionate, patient and experienced teachers. Their sheer presence and your own experience during this time will echo in your being long after the retreat. I also keep in touch and collaborate with many of the participants, whom I never knew before the retreat. Strongly recommended.
Upcoming Courses
No upcoming offerings of this program are currently scheduled for this location. Please fill out this
form
to express your interest in this course, including your preferred dates and times.