Local Projects
Our Community Program increases access to innovative programs designed to help individuals cope with mental health conditions. For example, we provide a weekly drop in mindfulness program at the Parkdale Activity Recreation Centre (PARC).
Another example of innovative programming is 40 Oaks where the Centre offers mindfulness-based cognitive therapy and supports practice groups at a community hub in Regent Park.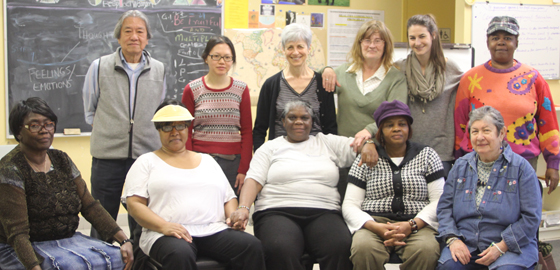 We serve diverse groups throughout the city in various communities. For example, we ran a mindfulness group for seniors in the Lawrence Park neighbourhood.
By partnering with healthcare and social service agencies in Parkdale and Regent Park, the Centre's Community Program brings help right into the communities where clients live.
We build capacity by training frontline staff at social service agencies to effectively address their own stress and their clients' mental health issues in a way that is sustainable. The Managing Stress Through Mindfulness Train-the-Trainer project funded by the Ontario Trillium Foundation, helped frontline workers build their skills to help their colleagues and their clients develop resilience through better mindfulness-based coping skills.
We are also collaborating with community-based social service and heath agencies to explore how community-based agencies can collectively increase their capacity to provide much needed wellness and mental health services directly to their client groups. These services will provide marginalized groups with timely access to mental health supports, supports that are not readily available to them through our existing mental health care system.