MSC Teacher Training Intensive
Train to teach Mindful Self-Compassion with guidance from Christopher Germer, one of its co-developers.

The three key components of self-compassion are self-kindness, a sense of common humanity, and balanced, mindful awareness. Kindness opens our hearts to suffering, so we can give ourselves what we need. Common humanity opens us to others, so that we know we aren't alone. Mindfulness opens us to the present moment, so we can accept our experience with greater ease. Together they comprise a state of warmhearted, connected, presence during difficult moments in our lives.
Self-compassion can be learned by anyone, even those who didn't receive enough affection in childhood or who feel uncomfortable when they are good to themselves. It's a courageous attitude that stands up to harm, including the harm that we inflict on ourselves through self-criticism, self-denial, or self-absorption. Self-compassion provides emotional strength and resilience, allowing us to admit our shortcomings, forgive ourselves, motivate ourselves with kindness, care for others, and be fully human.
Rapidly expanding research clearly demonstrates that self-compassion is related to emotional wellbeing, lower anxiety and depression, maintenance of healthy habits such as diet and exercise, and more satisfying personal relationships.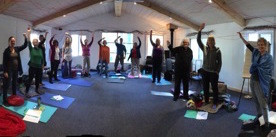 Prerequisites
You must participate in a Mindful Self-Compassion personal program (8-week or 5-day Intensive) at least 6 months beforehand. Despite being a bit less than 6 months ahead, our January 5-day qualifies. Two-day Core Skills Workshops, Online MSC and shorter workshops do not satisfy this requirement.
To find an MSC course around the world, click here.
Who Should Attend
This 6-day intensive is intended for those who wish to teach the MSC program, those who would like to integrate mindfulness and self-compassion in their ongoing professional activities (i.e., psychotherapy, coaching, nursing, teaching, etc.), and individuals who have a professional interest in the field (i.e., researchers, administrators, etc.).
Apply Before Registering
If you have not already been approved to attend this MSC Teacher Training, please apply now and wait to hear back before registering.
Timing: 45 hours over six days

Fee: Varies based on retreat location and your choice of single or double accommodation (as a charity, we do not charge HST).
Payment, cancellation and refund policies
Upcoming Courses
Start:
Sunday, June 24, 2018
@
2:30 pm
Facilitator(s):
Christopher Germer & Michelle Becker & Dawn MacDonald