A retreat and fundraiser to benefit The Centre for Mindfulness Studies
This retreat was created for clinicians to experience the value of extended periods of silence as well as to enhance their mindfulness-teaching skills and deepen their personal practice. Silent retreats allow us to become more acquainted with our internal experience by taking us out of our busy routines. Over three days, retreat-goers will have the opportunity to explore the body/mind without the distractions of everyday life and to see what comes and goes over the duration of the retreat. The insights that arise can assist teachers and practitioners both personally and professionally.
Come join our community as we work with mindfulness and all its facets.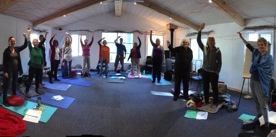 Who Should Attend
This silent retreat is primarily intended for professionals in healthcare, education, or social services, clinicians-in-training, facilitators of mindfulness-based programs, or those with professional interests in the topic (e.g. researchers and administrators).

Timing: Three-day silent retreat

Fee: Varies based on retreat location (as a charity, we do not charge HST).
Payment, cancellation and refund policies
The fee covers the cost of room and board only.
Did you know our facilitators are donating their time and their facilitation skills in service of this fundraiser retreat?  We ask all participants to make a donation on top of the registration fee in appreciation of the facilitators' donated time. All donations will support The Centre for Mindfulness Studies' Community Program in its goal to reduce financial barriers to mindfulness-based therapies. There are opportunities to donate in person at the retreat or online here.
No upcoming offerings of this program are currently scheduled.
Please check back later or contact us.