Mindfulness in Relationships

"Mindfulness is about love and loving life. When you cultivate this love, it gives you clarity and compassion for life, and your actions happen in accordance with that." ~Jon Kabat-Zinn
It's officially the season of love, and healthy relationships (romantic or not) can be challenging. Whether you're celebrating Valentine's day with a friend or partner, practicing mindfulness can make a world of a difference. Here are a few ways a consistent mindfulness practice could benefit the relationships in your life:
Mindfulness helps us stay present
We're all guilty of being distracted, whether on work worries or our to-do's. Having a mindfulness practice, as simple as a few attentive breathing cycles can help ground us to make our quality time more intimate. By practicing mindfulness, we are training our brains to be in the present moment. Our unnecessary worries and fears about a certain relationship can diminish and we are able to be more attentive to our loved ones. 
Soften emotional reactivity
Having a consistent Mindfulness practice over a period of 10 weeks has been proven to show emotional regulation, which can help to soften the feelings of anger or anxiety as they arise. Emotional outbursts are common and can happen in moments of stress. These often affect those closest to us the most. The ability to soften emotional reactivity can also cultivate more empathy and understanding with our loved ones, in turn, fostering healthier and stronger relationships.
Enhance your self-awareness
Mindfulness can help us observe and be more attentive when we are practicing unhealthy habits in our relationships. With a strong practice, we're able to redirect our thoughts to more helpful habits and soften our impulsive habits. Through better self-awareness, we can also gauge what we require from our partners and loved ones.
Ways to practice mindfulness in your relationship
There are many different ways to practice mindfulness within your relationship, the best option is the one that fits best into your lifestyle. You could start by establishing a 5 or 10-minute morning meditation practice to set the tone for your day. This can be done on your own or with a partner or friend as a shared experience. Try this loving-kindness meditation by Jon Kabat-Zinn.
Another option would be to join one of our upcoming programs! Mindful Self-Compassion (MSC) combines the skills of mindfulness and self-compassion. While mindfulness increases our awareness of the present, self-compassion encourages greater kindness and understanding of periods of suffering. It also helps us accept our flaws and better understand our challenges. Our next sessions begin on March 10 in Toronto and March 24 in Oakville. Learn more here: https://mindfulnessstudies.com/personal/mindful-self-compassion/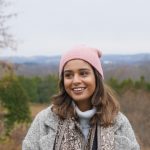 Chetna Suri
is a writer for the Centre for Mindfulness Studies and is working to connect more individuals to mindfulness-based practices. She's a previous student of the MBCT, and MBSR programming. Since graduating from the University of Toronto she's worked as a digital writer and is passionate about mental health advocacy.