Program Overview
At the Centre for Mindfulness Studies, we are committed to making mindfulness-based services available to everyone. This is at the heart of the work we do. With more than 20 social service agencies and 7 healthcare partners, we bring mindfulness into communities across the city of Toronto and beyond.
Mental health problems disproportionately affect disadvantaged groups such as the poor, homeless, unemployed and individuals with disabilities. 32% of individuals with low incomes have problems with depression, anxiety, or other mental health problems, vs. 16% of those with higher incomes.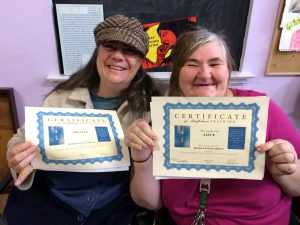 Whether it's depression, anxiety or other mental health challenges, there are many barriers to care, including the lack of available treatment resources, an intervention model predicated on formal medical diagnosis and the cost of treatment from psychologists. Our Community Program removes these barriers by delivering mindfulness programs to these marginalized groups and the frontline workers who serve them.
We aim to empower people to take control of their own mental health and well-being through mindfulness-based interventions. Our therapy programs give people the tools and skills to cope with their own emotional challenges. By working with groups, we also help our participants develop a sense of connection to a larger community. Our services are accessible and designed to meet the specific needs and circumstances of the populations we serve.
That's why I think the Community Program is so important. I think mindfulness is such a helpful tool but when you're having trouble with adequate housing, transit and food, you often can't afford to pay for the help you need. And it's especially important for those of us who can really benefit from learning how to help ourselves and not just depend on treatment available at hospitals or clinics.
Shelley La Hay
More information about our Community Program:
Grand Challenges Canada grant program
Most recently, the Centre was awarded a Grand Challenges Canada grant, the first in mindfulness, to develop and launch an innovative mindfulness program for youth in the Philippines in conjunction with local education, child psychology and government leaders. Based on the measured success of the first phase the program will be expanded across more of the country.
Bursaries
Our Bursary Program is one way that we reach out to members of the community with affordability and access issues. Thanks to the generous support of the Fourth Box Charitable Foundation, we are able to reserve spaces in each of our mindfulness-based therapy courses for bursary recipients. See our Bursary page for more info, including eligibility requirements.